It continues to be a fun puzzle to best utilize the built-in storage our tiny house has, as well as add our own personal touches.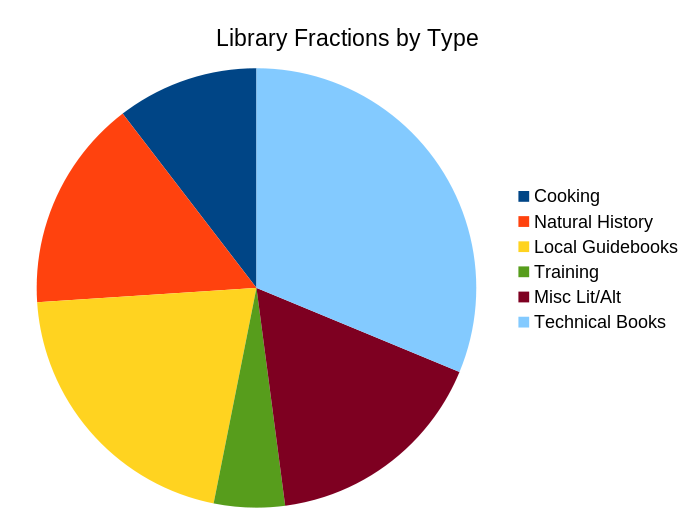 Our books have a new home on the 4′ long 2×8 shelf Jon designed and installed. We really pared down the books to have on hand before we moved. They all fit on our shelf to begin, but we received some lovely gifts, so now a couple books are on our nightstands.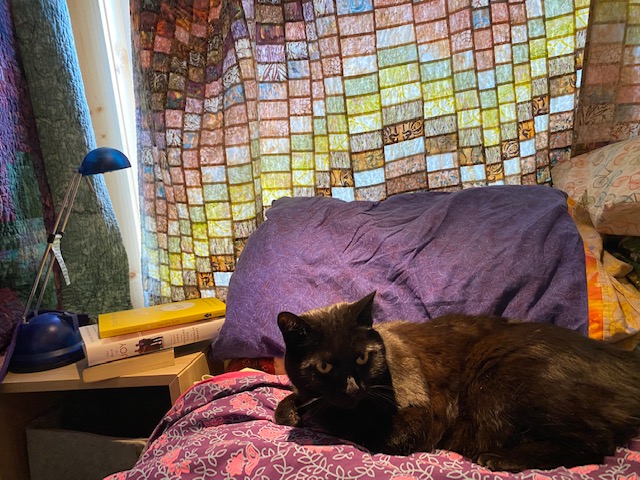 I am so pleased with my tea shelf. When we sit on our little couch, cats will often make themselves comfortable on me for as long as they want. With my new little shelf, I can still reach my cup of tea when a cat holds me lap-hostage.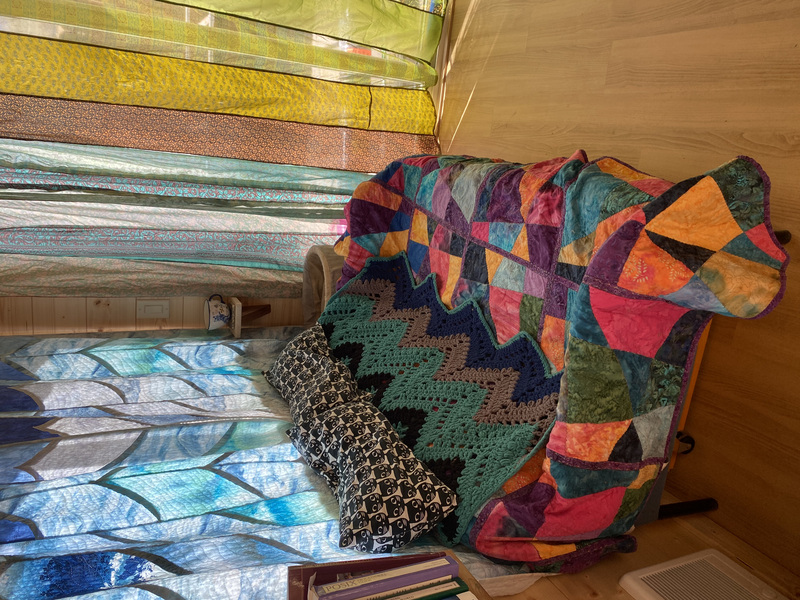 We each have a handy-dandy shoe drawer built under the stairs, which holds our most commonly used shoes.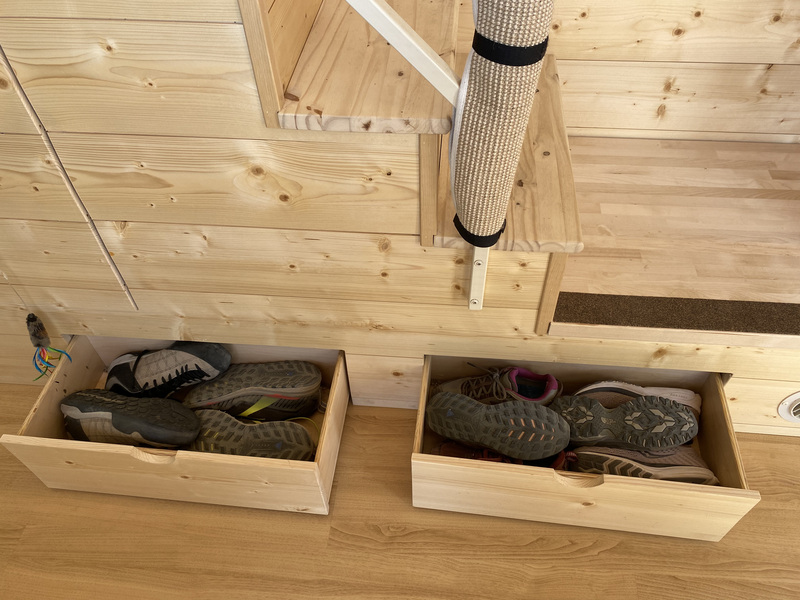 I love my tribute to Julia Child – a pegboard for storing pots and pans, like she had in her kitchen. The tiny house didn't have very much kitchen storage and I love to cook, so this is really helpful. I will eventually top it with a photo of Julia Child. I really enjoyed watching her cooking shows as a little girl. I don't cook her style of food very often, although I remember being very proud when I made her recipe for Soufflé au Fromage way back when I was a newlywed. I also used her recipe for Boeuf Bourguignon as inspiration to create my vegetarian version: Bean Bourguignon.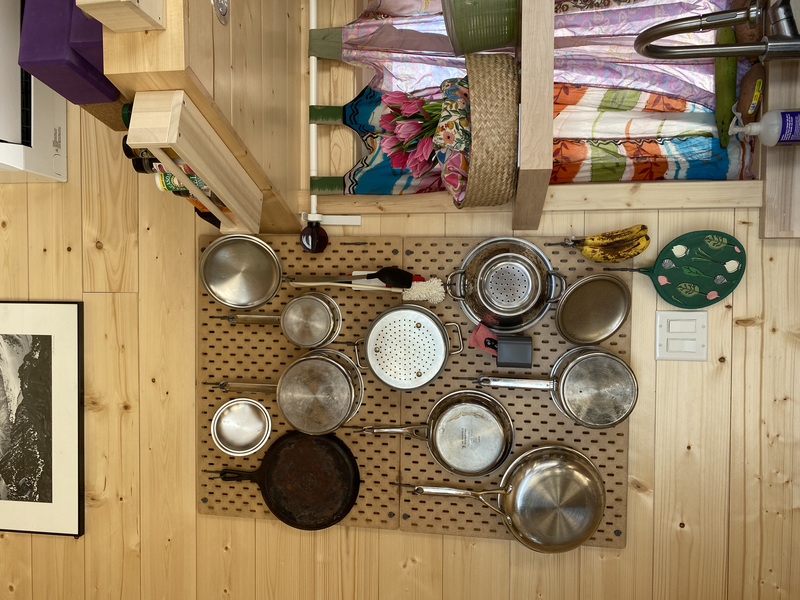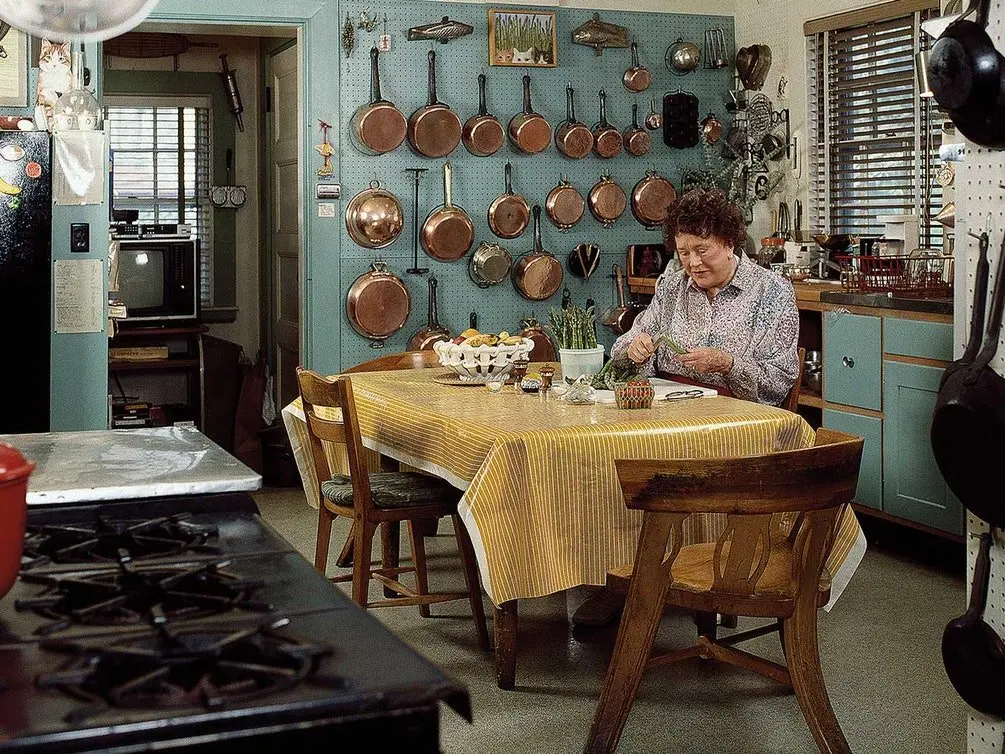 Speaking of cooking, spice storage is a necessity! I can move the loft ladder over to access the spice racks, but sometimes it's easier to ask Jon to reach one for me, especially is Ziggy is eating at his special place by the ladder. The teas are also accessible by the ladder. We converted the coat closet into a pantry, but it still isn't enough space. I think installing 3 more shelves in the pantry closet will be helpful.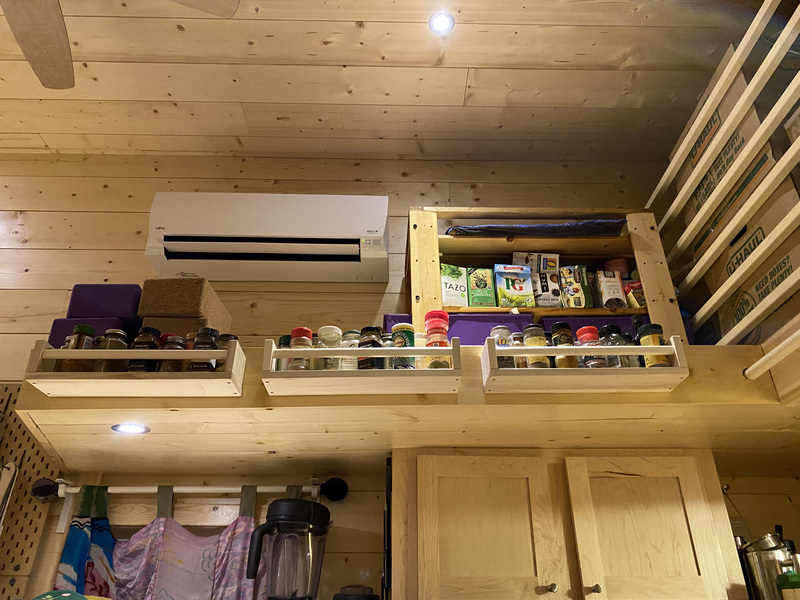 Exercise equipment is stashed in different places. Our yoga and Pilates stuff is mostly above the kitchen, to the left of the pantry overflow. We form a bucket brigade to take stuff down and then put it away after zoom class on Tuesdays and Thursdays. Kettlebells, for our supplementary strength training, are currently on the floor under the table. The TRX gets stored in its own bag in the storage loft between uses.
There is so much built-in storage in the bathroom! I can store all the cat stuff in there, as well as the bathroom and laundry stuff and linens. I really love our map storage on the door! My mom uses over the door shoe holders for all types of storage, so I think I got that idea from her.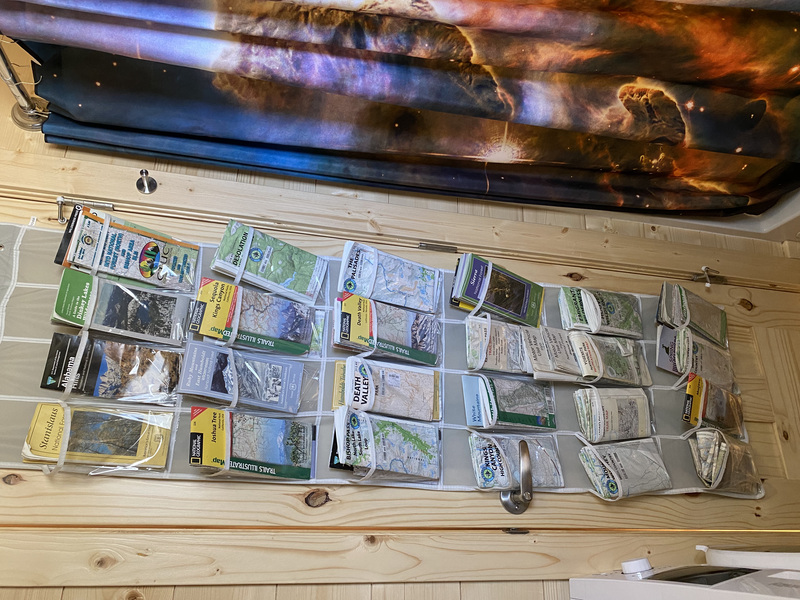 We put IKEA Kallax storage bins on the edge of each loft to make them feel like more private spaces. In our bedroom loft, the bins hold our clothes and have cat beds on top. In the storage loft, the bins hold the inevitable odds and ends.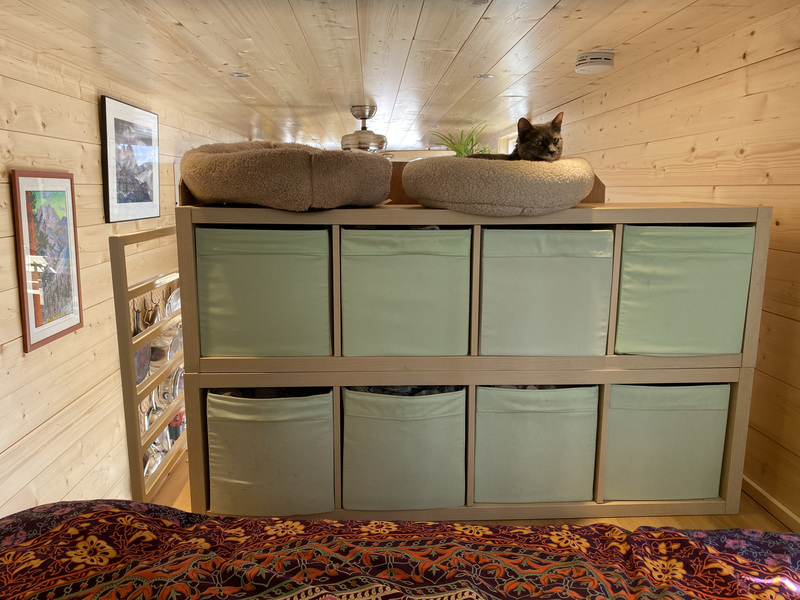 We're still working to organize the storage loft. After ski season, I'll move the skis back to our main storage unit and that will free up the floor space. It will be fun to put a rug up there to sit on while we play records.