We bought a utility trailer! I've been renting utility trailers from Uhaul whenever we buy lumber too big to fit in our cars or need to take big stuff to the dump or green waste. Uhaul trailers are super heavy, don't always have a jack, and have chains that are very difficult for my tiny weak hands to remove, so I have to leave them hooked up to my car the whole time, which is tough for charging my car and parking overnight in our driveway.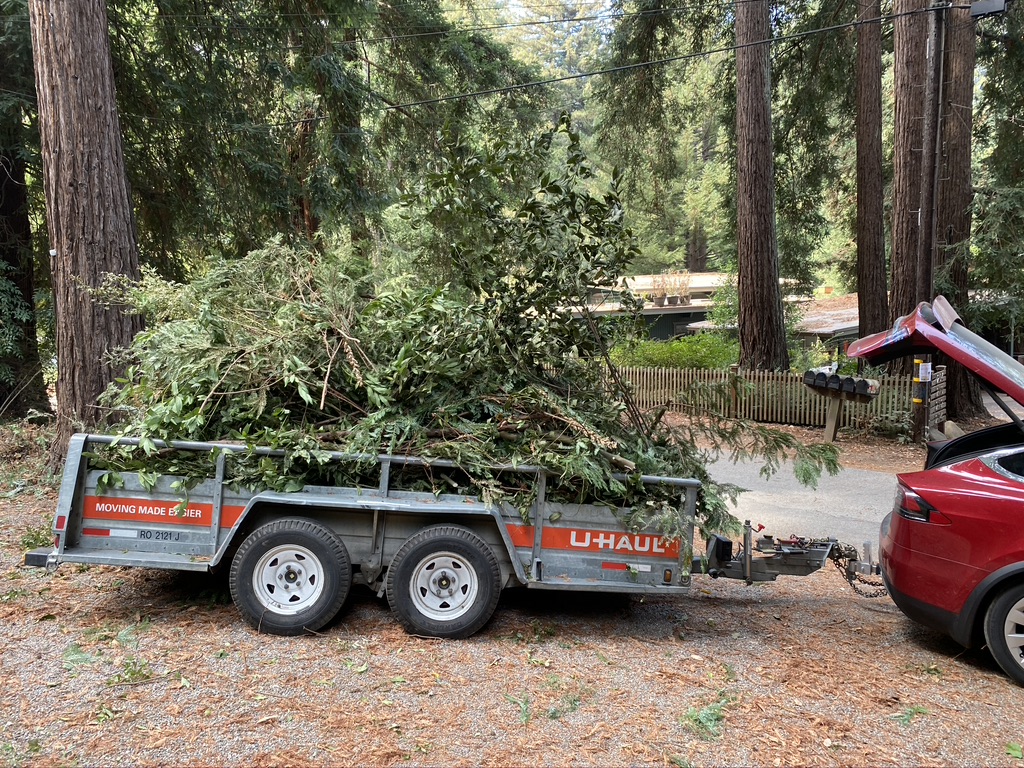 We have many uses for a trailer, such as maintenance on our current house, moving our stuff out to Bishop, and building and maintaining our new house, so I did some research into purchasing our own. I was surprised to find good quality, basic trailers weren't as expensive as I thought. It was tough to find the exact size I wanted, so we ended up with a larger trailer 6.5′ x 12′, but I'm getting used to driving and parking it.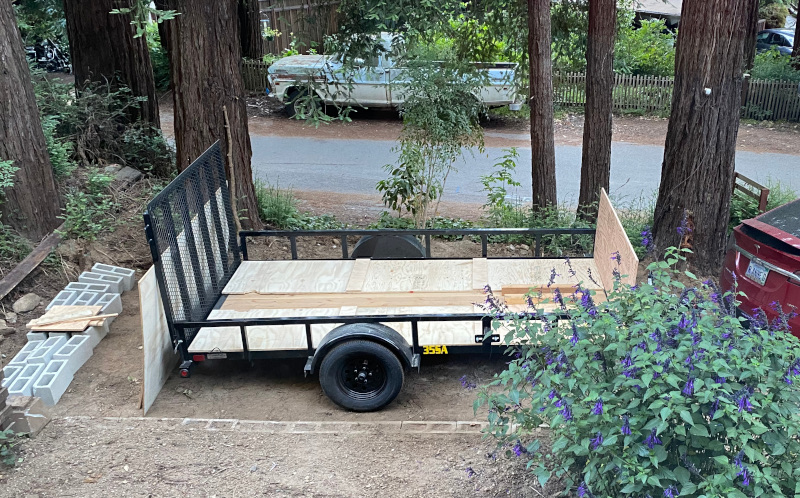 We then built 2.5′ high sides with 3/4″ plywood and used U-bolts to fasten the sides to the frame. We painted the sides red to match my car and also to be very visible on the road (just call me Mrs. Safety). The sides are solid and I'm very happy with it. Jon designed it so we can remove the sides easily if we get an electric 4×4 dune buggy someday.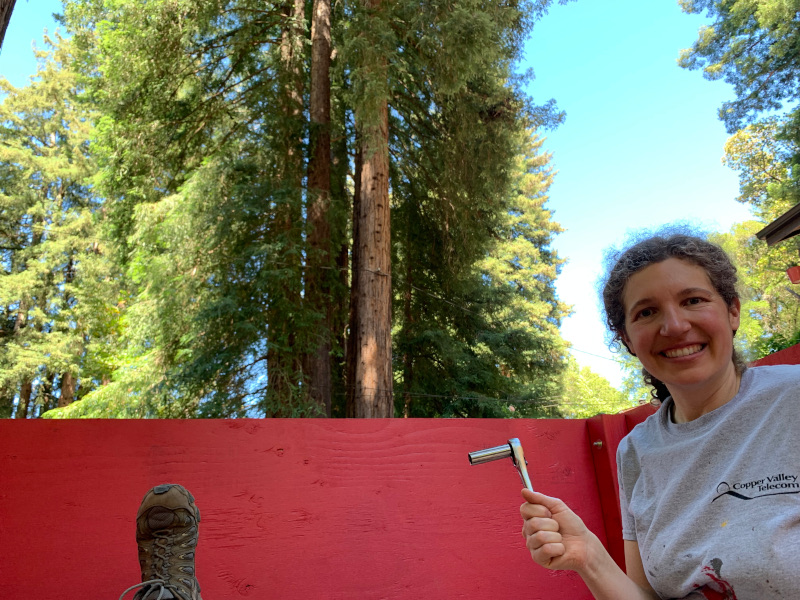 The first load I took to our Bishop storage unit was covered in a tarp with rope to tie it down. The tarp billowed quite a bit in the wind. When I returned, we bought D-rings and installed them on the inside of the trailer sides and a bungee net that clips into the D-rings. That time felt very secure and energy efficient. Good idea, Jon!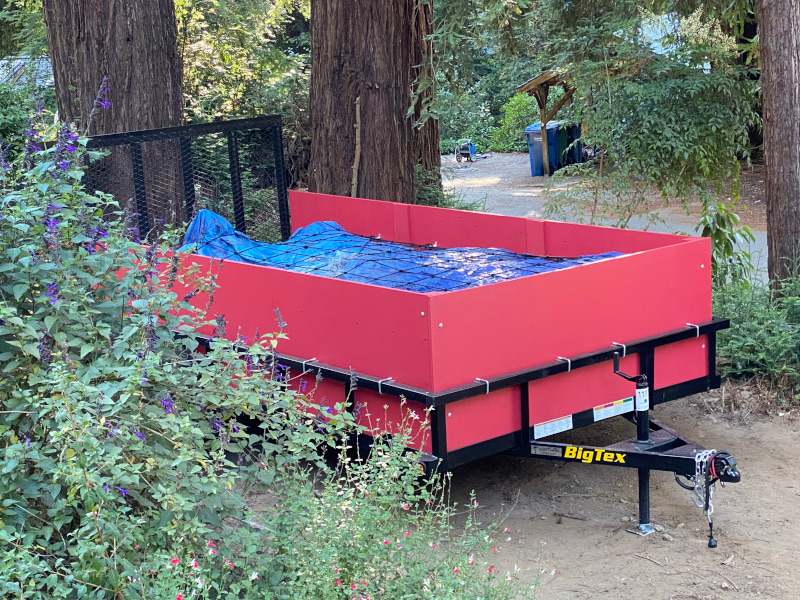 I absolutely love the hitch and jack on this trailer! It is really fast and easy to unhitch. At the Manteca (Bass Pro) and Mammoth Lakes super chargers, the layout allows me to pull into a rear charger without unhitching. The trailer sticks out, but there is room for other cars to pull in next to me or drive behind me, so I don't feel like a jerk. If I'm lucky, then nobody will be charging in front of me when I leave and I can pull through both spots to exit, but I can back out of the rear spot, if I need to. In Groveland and Bishop, I need to unhitch the trailer and back into a charging spot. So having an easy hitch is really great.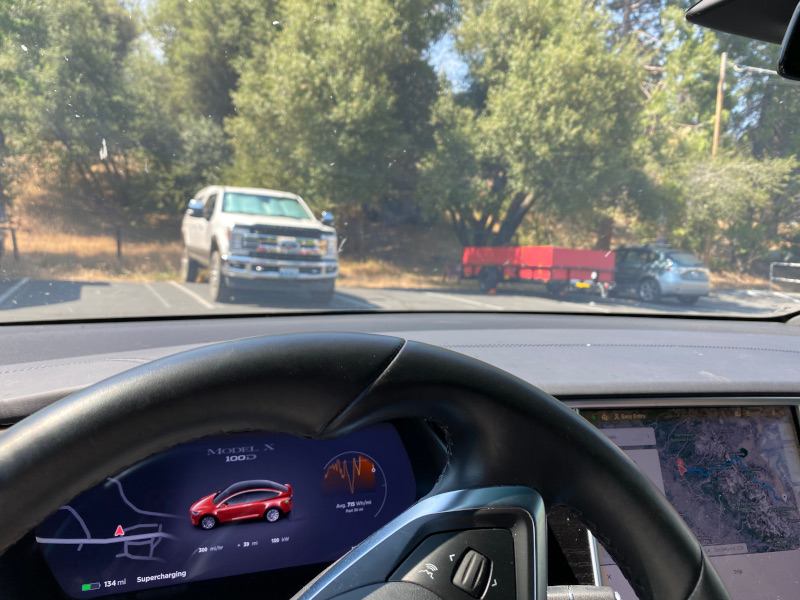 I'm still learning to back up trailers by myself. Jon took some training in the Army for ground guiding vehicles, and I've been spoiled with great ground guidance when he travels with me. I've driven solo the last few trips to Bishop because I went on weekdays to avoid summer weekend traffic. I'm not smooth, but I usually work it out. However, one time Groveland was packed and I was really blowing it trying to back the trailer into a spot. Luckily, a very mellow man hopped out of his Model 3 and offered to ground guide me and he was good at it, too. Whew! Thank you, kind man!